Avi
Name
Avi
Age
3 or 4
Dislikes
Getting hurt
Species
Fish
Gender
Male
Favorite Thing to Do
Seeing Oona, Riding his Tricycle
Voice Actor
Luke Manriquez
First Appearance
Call a Clambulance!
Avi is a small blue fish, and is one of Oona's best friends. He loves to ride around on his orange tricycle, but his opinion may have changed after he fell after hitting a rock and broke his tail. Oona was very worried about Avi, and to make Oona and Avi feel better, Mr. Grouper took the Bubble Guppies to visit him in the hospital. Oona was also worried about him in Get Ready For School! when it was his first day of school, but they visited him after school and found out that he enjoyed it. In the pop song of this episode, it is revealed that Avi can play the drums!
Description in the Series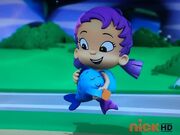 Personality
Avi is a young fish, who is probably 3 or 4 years old, and he is best friends with Oona. Since Avi is a young fish, his personality has a big impact of how he acts in the show. In Call a Clambulance! He is shown to be rather ignorant, and in Get Ready For School!, he enjoyed going to school.
Looks
Avi looks a lot like his Mother, who is very protective of him, Avi is mostly a sky blue color. He has two spots on his back alongside his small darker blue dorsal fin. He also has no ears. Avi has two white eyes with black pupils and a dark blue tail.    
Appearances
Avi's first appearance came in the series premiere, Call a Clambulance! He returned in the season 3 premiere Get Ready for School!