Big Blue Fish
Name
Big Blue Fish
Species
Fish
Gender
Male
Favorite Thing to Do
Saying "Ahhhhhhh", watching ballet, attending surprise parties
Voice Actor
Chris Phillips
First Appearance
Call a Clambulance!
Wait, He's The Snow Guppy?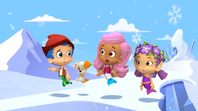 The follow name or title given has not been confirmed as canon and needs verification.

The Big Blue Fish is a minor character who appeared in the episode Call a Clambulance! He also appeared in one of the sketches that Molly and Gil were checking up the Little Fishes.
Looks
The fish is entirely of a blue color aside from his mouth and eyes. 
Appearences