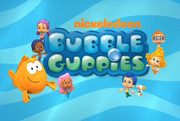 Still Workin' On It!

This page is missing some content and/or is still being worked on!
Please be patient.
The Bubble Guppies are the main characters of the TV Show Bubble Guppies. They are 8 characters who live in an undersea, lovely world known as Bubbletucky. The Bubble Guppies love to swim and play together. They also go to a big yellow building well known as their preschool. The Bubble Guppies include the following:
Characters
Molly, the natural leader guppy with bright pink hair, brown eyes and a swirling light blue and dark blue patterned tail and bikini.

Gil, the turbo-charged guppy, with bright blue hair, blue eyes and a dark camo-patterned tail.
Goby, the make-believer guppy with bright indigo hair, brown eyes and a wavy blue and purple striped tail.
Deema, the drama queen guppy with blue eyes, huge poofy sunflower yellow 70's hair, two orange earrings and an orange yellow polka-dotted tail and bikini.
Oona, the cute guppy with brown eyes, royal purple hair in two low pigtails with a pink starfish bow and a purple tail with wavy pink stripes.
Nonny, the cautious guppy with neon orange hair, green eyes, blue scuba goggle like-glasses and a dark gr

een striped tail.
Bubble Puppy, the class pet with two small eyebrows, two small black eyes, a big black nose, a pink tongue, a green collar with a gold covered fish shaped tag, a big orange spot around the right eye and an orange

mermaid tail.
Mr. Grouper, the best teacher in the world.
They are encouraged by Mr. Grouper and minor characters to do new things each day! There has always been a main character or main characters in the episodes. They always think about some things they were talking about. They also have a pet clam named his own name Clam. The Little Fish always answer the questions from the Bubble Guppies and they love the Bubble Guppies. Sometimes, there are some short sketches with Molly and Gil. They have lunch and one of them always get the lunch joke (particularly Nonny). Also, Mr. Grouper always take the Bubble Guppies to field trips.
Community content is available under
CC-BY-SA
unless otherwise noted.