The Bubble Guppies are the main characters of the TV Show Bubble Guppies. They are 8 characters who live in an undersea, lovely world known as Bubbletucky. The Bubble Guppies love to swim and play together. They also go to a big yellow building well known as their preschool. The Bubble Guppies include the following: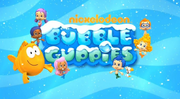 Characters
Nonny, the cautious guppy with neon orange hair, green eyes, blue scuba goggle like-glasses and a dark green striped tail.
They are encouraged by Mr. Grouper and minor characters to do new things each day! There has always been a main character or main characters in the episodes. They always think about some things they were talking about. They also have a pet clam named his own name Clam. The Little Fish always answer the questions from the Bubble Guppies and they love the Bubble Guppies. Sometimes, there are some short sketches with Molly and Gil. They have lunch and one of them always get the lunch joke (particularly Nonny). Also, Mr. Grouper always take the Bubble Guppies to field trips.