Captain Lobsterclaw
Name
Captain Lobsterclaw
A/K/A
The Lobster At Sea
Age
52
Species
Lobster
Gender
Male
Favorite Thing to Do
Digging for buried treasure

Sailing on pirate quests

Voice Actor
Dan Castellaneta
First Appearance
X Marks the Spot!
Wait, He's The Snow Guppy?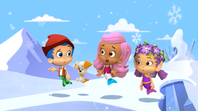 The follow name or title given has not been confirmed as canon and needs verification.
Still Workin' On It.

This page is missing some content and/or is still being worked on.
Please be patient.
Captain Lobsterclaw is a character from Bubble Guppies. He is a pirate and a lobster who first appears in "X Marks the Spot!" and later appears in "Party at Sea!", "Gobble Gobble Guppies!" and "A Dolphin is a Guppy's Best Friend!". He loves to go on pirate adventures, treasure hunts and being on the pirate ship. He gives Molly and Gil a treasure map, and the Guppies go to find the treasure. They meet the pirate again after finding the treasure, and he says they are officially pirates!
Looks
Captain Lobsterclaw wears a pirate suit, black cardigan and a white shirt with a belt going through, he has a black beard and wears a patch with a pirate hat with the jolly roger on it.
Community content is available under
CC-BY-SA
unless otherwise noted.