Information

Circus, Circus is the pop song from the episode The Sizzling Scampinis!. It is mostly sung by Molly.
Characters Appearing
Lyrics
Molly: There's this fabulous show that takes place in a tent!
With lions and bears and huge elephants!
There's popcorn and peanuts and cotton candy!
All kinds of performers, who knows what we'll see?
We'll find our seats as the lights go slowly do-own!
Spotlight swells through the crowds, music swell!
Look out, they sent in the clowns!
Circus, circus! I really want to go!
All: Take us, take us, take us to the circus!
Molly: 
A big top, never stops, worlds greatest traveling show! Take us to the circus!
Slapstick, magic tricks, clowns. clowns! Come on quick, let's go!
Gil (speaking): Ladies and gentlemen, now appering in the center is The Sizzling Scampinis!
Molly: Ringmaster calls for your attention please!
See daring young girls on their flying trapeze!
Acrobats stumble and fly throught the air!
Men wrestel with lions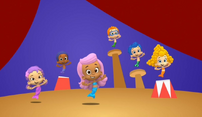 with hardly a care!
Riders stand on the backs of ponies and prace!
Where else can you see bears, bears that can dance...?
Circus, circus, I really want to go...
Videos
Bubble Guppies - Circus Circus I Really Want To Go (Song Official)




Bubble guppies Circus in Polish

Bubble guppies circo

Circo, circo Bubble guppies

Bubble Guppies UK Circus, Circus!-1415905407




Bubble Guppies Tunes 61 circus circus(Hebrew)

Bubble Guppies Circo
Community content is available under
CC-BY-SA
unless otherwise noted.