Development
Still Workin' On It.

This page is missing some content and/or is still being worked on.
Please be patient.
In Deema's early appearance, she is seen wearing pink, has pink earrings on, and her hair is yellow instead of golden.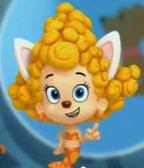 Deema's Season 1 appearance compared to season 2 was very different. Her hair seemed Play-dough sort of effect. In Season 2 her tail or "fins" are much longer or larger than season 1. This could lead to ageing.
Season 2 Animation
Deema had a new animation.

Deema has her hair is more curly, high dimensional, and is golden-orange rather than the usual yellow.
Deema's singing voice is different.
Deema's eye color is sky-blue.
Season 3 Appearance
Although it seems like Season Three hasn't changed Deema, it turns out that an actress named Grace Kauffman has replaced Angelina Wahler, who had played Deema in the first two seasons. This makes Deema one of the five guppies who have new actors or actresses. First appeared: Get Ready For School!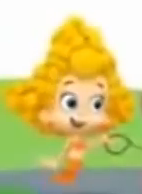 Season 4 Appearance
Community content is available under
CC-BY-SA
unless otherwise noted.