Little Fish
Name
Little Fish
A/K/A
"The Greek Chorus"

"Their Underwater Guides"

Dislikes
Gil being rude to them
Species
Fish
Gender
Male and Female
Favorite Thing to Do
Teasing Gil
Voice Actor
Skai Jackson (2011-2013)

Mia Vavasseur (2013-2015)

Kayla Erickson (2015-2016)
Jordan Friedman (2019- present)

First Appearance
Call a Clambulance!
The Little Fish are a group (of two or three) of fish who appear in every Bubble Guppies episode to help viewers learn the answers to any questions the Guppies ask. Easily amused and delighted, they swim to school with the Guppies and escort the home audience from segment to segment. They appear at the beginnings of episodes announcing the title of the episode.
Looks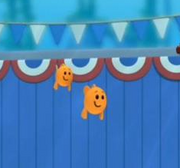 Each of the Little Fish are an orange color. They have small black eyes and two fins each. In The Moon Rocks!, there was one and it was green. In Fishketball!, a blue fish and purple fish was also seen.
Appearances
The Little Fish have appeared in every episode of Bubble Guppies In The Title. Their first appearance was in Call a Clambulance!.
</span>
Community content is available under
CC-BY-SA
unless otherwise noted.