Major Bummer

Name
Major Bummer
Dislikes
Music (formerly)
Species
Crab (though he wears a robot suit for most of the episode)
Gender
Male
Voice Actor
George Takei
First Appearance
Space Guppies!
Major Bummer is a character from Bubble Guppies. He only appears in Space Guppies!. He takes over the Galatic Bubble Station with his mission to eliminate all the music of the galaxy, to which he did except for one planet. He is known to be the meanest robot in the galaxy.
Appearance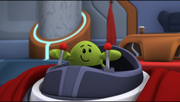 Major Bummer at first appears to be a robot but towards the end of the episode, it is revealed that he is just a green little crab wearing and controlling a robot suit.