Still Workin' On It.

This page is missing some content and/or is still being worked on.
Please be patient.
In the early Bubble Guppies pilot, Molly had a similar design to her present design. Her skin color, hair color and all her features are the same as the one now. Except that her hair was a little more straight than curly.
Season 1
In the first season, Molly's flyaway hair was longer, thicker and deep pink instead of light orchid pink. Her tail was skinnier and she was taller in length.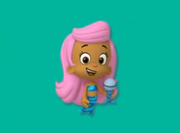 Season 2
Season 2 has changed Molly's appearance since the show is now animated by another company.
Molly's hair has more color scheme, more design, and her tail is shorter and a bit thicker than before.
Her eyebrows are thicker.
Her arms are longer and thicker.
Molly's skin is lighter, and the same with Goby.
Molly's hair is straight now.
Season 3
In season three of Bubble Guppies, Molly's voice has become softer. Her fish microphone is now colored gold and blue. Her hair is a bit lighter as well.
Season 4
Community content is available under
CC-BY-SA
unless otherwise noted.