Information
Mr. Tree is the Pop Song from the episode: Boy Meets Squirrel!. It is sung by Molly.
In this song, Molly talks about the different types of trees.
Characters Singing
Lyrics
Molly: Please, Mr. Tree, please, tell me your name.
What kind of tre

e are you?
And please, Mr. Tree, please, what are you like?
Do you change in the fall or do your leaves stay that shade of green? Do you know what I mean?
Frogs and snakes and monkeys, too, would love to find a tree like you,
Where they could have a comfy nest, take a nap, and get some rest!
Squirrels like to sit and eat acorns, their favorite treat!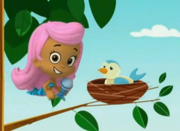 Bunnies hide in roots down low, keeping warm from winter snow!
Hey, hey, hey, Mr. Tree, just what would we do if we didn't have you or palm or oak or spruce?
Who'd clean the air or make the shade, and how would buildings get made without lumber?
I wonder just what we would do!
Think of all the things we couldn't eat when we want a healthy treat!
Apples, cherries, apr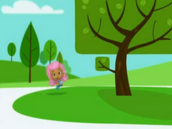 icots! Peaches, plums...
Gil: And more?
Molly: Lots! Almonds, mangoes, olives, too! Figs and dates...
Gil: Oh, yeah! Thank you!
Molly: Man, we're still not close to through, but for now that will have to do!
Gil: Oh, man! I'm still hungry!
Molly: Hey, Mr. Tree, hey!
Such a pleasure today, to stop and get to know you!
And oh, we're so glad that you grow in our yards and parks with all your different parts: l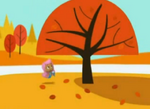 eaves, branches, bark, and roots below!
Oh, Mr. Tree, oh!
Molly and Gil: Tree!
Molly: Oh, Mr. Tree, oh!
Molly and Gil: Tree!
Molly: Oh, Mr. Tree, oh!
Molly and Gil: Tree!
Key Signature
F Major
Videos
Bubble Guppies - Hey, Mr. Tree


American English Version

Hebrew Version
Songs
Season 1 Songs
Got a Bunch of Bones • A Color Just Right • I Want a Pet Today • Build Me a Building (Song) • The Band Plays On • The Restaurant • Sun, Beautiful Sun • Let's Put On a Play • I Need to Rock! • Choose the Right Ball • Camping Out, Camping Outside • We're Gonna Fly • It's a Beautiful Day • Mr. Tree • The Farmers Song • Big Bubble City • Mail, Mail Send me a Letter • Long Time Ago • Super, Super, Supermarket • Spooky!
Season 2 Songs
X Marks The Spot • Tonight is a Holiday • At the Zoo! • Once Upon a Time • I Wanna Be a Cowgirl/Cowboy • Look For The Firetruck! • Just Smile! • Trucks are Tough • Check It Out! • On The Beach • Circus, Circus • Is There A Job I Can Do For You • Abra-Cadabra • Brave, Brave Knights • Nobody Nose! • And I Would Fly • Take Me Away on a Train • Buggin' Out! • I Love My Hair!
Season 3 Songs
Get Ready! • Call The Police • The Elephant Song! • At The Ballet • Australia • This Is The Arctic Life • A Puppy Is A Guppy's Best Friend • Night Night! • Flutter Guppies Realm Song • Snow Guppy Realm Song • Cavern Realm Song • A Brand New Day! • Wheels Go 'Round • Sing About Everything • The Baby Animals Song • Orchestra Play for Me! • Come To Your Senses • Honey Bee! • Party at Sea • Wash 'Em Off • Lungs Breathe, Hearts Beat • Leaves Are Fallin' •

Holiday Ride

• Awesomeness of Rain • Little Froggie •

Here Kitty Kitty!

• Superheroes! • Hey Dolphin! • Fruits and Veggies
Season 4 Songs
So You Want To Be A Princess • Dress Up • In My Neighborhood • Happy To Be Home! • In The Kitchen • Puppy Here We Come • Bubble Pop Song • Check Out China • Down Here On The Farm • Hey Baby • Rock Your Style! • Summertime • Trick or Treat
Season 5 Songs
Ocean Animals • Geography! • What You Do To Be Healthy • Feelings! • Whether the Weather • Rock Out • Gemstones! • Four Legs and Fur • Hey, Hey Baby •Be Curious • Seasons Go Around & Around• Ice, Water or Snow • Sun & Moon & Day & Night • I'd Love To Spend My Christmas With You • Chores! • Send Me!
Other
Bubble Guppies Theme Song • Outside • Lunchtime • Pencil Case