Development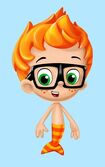 Nonny in the early pilot of Bubble Guppies looked very different than now.
His glasses looked like regular black square frame glasses, not blue scuba goggles.
His tail was orange and yellow, much like Deema's current tail, except with stripes instead of spots.
He also had freckles.
Season 1 Appearance
His eyebrows are smaller.
His hair kinda spikes up a little more.
His hair is also a little wavier.
Season 2 Appearance
He has one spike of hair at the top of his head
His glasses are slightly darker
His eyebrows are thicker yet are still small
His hair is brighter
Season 3 Appearance
He is taller.
His tail is shorter and wider
His voice is slightly higher pitched, quieter and younger sounding.
His arms are longer and his hands are larger.
His hair is brighter orange.
His tail is a little brighter.
His glasses are darker blue.
His stripes on his tail are smaller
The spikes in his hair are straighter than in season 1
Season 4 Appearance
Looks
Nonny has peach skin, orange hair, and green eyes. He wears blue glasses which are shown to look like scuba goggles, and his tail is light green with dark green stripes. His ears are slightly larger than the other guppy's, and he is thinner than them as well. Because of his thin stature, it gives him the illusion of having unusually large hands.
Nonny Without Glasses
Without his glasses it makes his eyes stand out.
Why So Serious?
Nonny does not usually smile. In the first Season, it is easier to see him smiling during the songs and laughing during the "Lunchtime" segments. From the 2nd Season onward, he appears to be serious most of the time. In the Pop Song, "Just Smile!", he refuses to smile until the end of the song. From The Sizzling Scampinis! onward, he stops laughing at his lunch jokes.
________________________________________________________________________________
Good Luck Nonny!