Pink Colour Fish

Hehe
Name
Pink Colour Fish
Species
Fish
Gender
Male
First Appearance
The Crayon Prix!
Wait, He's The Snow Guppy?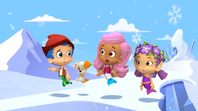 The follow name or title given has not been confirmed as canon and needs verification.

The Pink Colour Fish is a pink fish who only appeared in the episodes: The Crayon Prix! and Fishketball!. He has the ability to blow bubbles from his tube-shaped mouth. He can even blow different coloured bubbles.
Role
In The Crayon Prix!, he only appeared in the Molly and Gil sketches; the first and the last one. In the first one, Gil wanted him to blow an orange bubble but he keeps on blowing other colours. When he blew a red bubble and a yellow bubble, Molly showed Gil that they can make orange by blowing the yellow bubble into the red one, making an orange bubble. The orange bubble pops and covers Gil. In the end sketch, he blew a huge purple bubble which pops, covering Gil and The Viewer with purple. In Fishketball!, he only appeared once when Gil was going to school. He was blowing a few more bubbles for some Little Fish to play volley bubble. He then blew a bubble for Gil to show his friends.
Looks
Pink colour fish looks very pale pink. He has a strange tube-like mouth which he uses to blow bubbles with. His right eye is bigger than his left. Other than that he looks like an ordinary fish.
Gallery
Trivia
Because of his strange mouth, it is assumed that he can only make quiet laughing sounds and not talk.