Pink Colour Fish

Pnk colour Fish
Name
Pink Colour Fish
Gender
Male
First Appearance
The Crayon Prix!
Wait, He's The Snow Guppy?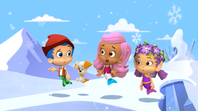 The follow name or title given has not been confirmed as canon and needs verification.
Still Workin' On It!

This page is missing some content and/or is still being worked on!
Please be patient.
The Pink Coloured Fish is a pink fish who only appeared in the episodes: The Crayon Prix! and Fishketball!
Looks
Pink Colour fish looks very pale pInk. He changes colour when he blows a colour bubble.