Pirate Lobster
Name
Pirate Lobster
A/K/A
The Lobster At Sea
Age
Adult
Species
Lobster
Gender
Male
Favorite Thing to Do
Digging for buried treasure

Sailing on pirate quests

Voice Actor
Dan Castellaneta
First Appearance
X Marks the Spot!
Wait, He's The Snow Guppy?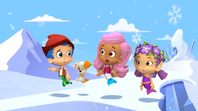 The follow name or title given has not been confirmed as canon and needs verification.

Pirate Lobster is a character from Bubble Guppies. He is a pirate and a lobster who first appears in "X Marks the Spot!" and later appears in "Party at Sea!", "Gobble Gobble Guppies!" and "A Dolphin is a Guppy's Best Friend!". He loves to go on pirate adventures, treasure hunts and being on the pirate ship. He gives Molly and Gil a treasure map, and the Guppies go to find the treasure. They meet the pirate again after finding the treasure, and he says they are officially pirates!
Looks
Pirate Lobster wears a pirate suit, black cardigan and a white shirt with a belt going through, he has a black beard and wears a patch with a pirate hat with the jolly roger on it.