Rotten Tomato

Guess who's back?
Name
Rotten Tomato
Dislikes
Nonny, Gil, Goby and Molly
Gender
Male
Favorite Thing to Do
Trap people in pickles, rot vegetables and fruits
First Appearance
"The Grumpfish Special!"
Rotten Tomato is a character that appears in the episodes The Grumpfish Special! and Fruit Camp!
Description
He is a big flying tomato, who can trap others in pickles and turn ripe produce rotten.
Appearances
Rotten Tomato is the villain from the story in The Grumpfish Special! , titled Super-Waiter and Busboy. He is a giant red tomato who aims to make sure Super-Waiter and Busboy don't get the order to the customer. When the two heroes reach the Garden of Doom to pick vegetables, he turns Super-Waiter into a pickle. He is then defeated at the end of the story by being trapped in a ketchup bottle by Busboy.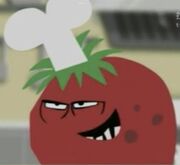 He reappears in Fruit Camp! as a villain who wants to turn all the produce rotten. At the end of the story, he tastes how delicious ripe produce is and vows to never make produce rotten.