Season 3 Episodes
The Elephant Trunk-a-Dunk!

7. Puppy Love!
8-9.
The Puppy And The Ring!
 (2nd Special)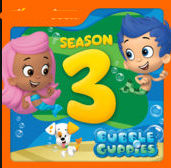 10. The Amusement Parking Lot!
11. Good Morning, Mr. Grumpfish!
13. The Unidentified Flying Orchestra!
16. Party at Sea!
19. Gobble Gobble Guppies! (Thanksgiving Special)
20. A Very Guppy Christmas! (Christmas Special)
21. Puddleball!
22. The Running of The Bullfrogs!
23. Bubble Kitty!
24. Super Guppies! (Special)
25. A Dolphin is a Guppy's Best Friend!
26. Fruit Camp!
Trivia
This is the longest season of the show with 25 episodes (26 if you count The Puppy And The Ring! as a two-parter).
A promo for this season has been showed on the Nick Jr. channel called Pencil Case.
Previous: Season 2
Next: Season 4.
Community content is available under
CC-BY-SA
unless otherwise noted.