Zooli


Hi! I'm Zooli!
Name
Zooli
A/K/A
"The Animal Lover"
Age
Preschool-Aged
Dislikes
TBA
Species
Guppy
Gender
Female
Favorite Thing to Do
Caring for animals.
Voice Actor

Leah Janvier

(English)

First Appearance
The New Guppy! (Season 5)
Zooli is a character from Bubble Guppies. She made her debut in the Season 5 premiere, The New Guppy! After the story segment of that episode, Zooli fitted right in. Her favorite ocean animal is a sea horse as seen in The New Guppy! and her favorite color is purple just like Gil.
Personality
Zooli is a spunky and smart character, animal expert and fin-tastic friend to the guppies' school class. She is shown to be clever, as seen in The New Guppy! when she tricks the Sea Witch into turning the latter into a sea dragon. She is also shown to be sympathetic to others, as seen in Dragons N' Roses! when she was the only person in the Kingdom of Roses to go to Agnes the dragon's cave to find out what was wrong.
Looks
Zooli has dark skin and dark brown eyes. Her curly violet hair is held up in a bun and has a blue seashell on the side. Like Oona, she has a full-pieced tail and almond shaped eyes. Her tail is spiraled and is colored light pink and deep pink.
Relationships
Zooli met all her friends in the episode, The New Guppy!.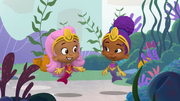 Molly
Zooli and Molly have a positive relationship. They get along really well and deeply care for one another. They could often be seen together in most of season 5 like in The New Guppy! where Molly worries about Zooli, in Snow Squad to the Rescue! where they are together waiting for their sleeping bags to be given, and in Swinging in the Rainforest! where Molly gives Zooli an umbrella hat knowing Zooli has trouble drawing when it rains.
Gil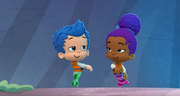 Zooli and Gil have an interesting dynamic as they don't tend to get along. In
Genie in a Bubble!
they fought over receiving a wish and in
It's a Lizard!
her annoyance at Gil during his presentation. There are many times where they do get along however, like near the end in
Genie in a Bubble!
, they high-fived and were thankful for all the fun they both had during their adventure. As well as in the pop song of
Dragons N' Roses!
, Zooli gazed at Gil in admiration.
Goby
Deema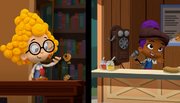 Oona
Nonny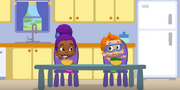 Skills
Singing
She sung her first solo and first pop song called Whether the Weather.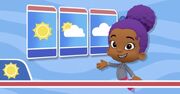 Music
She plays the keyboard in Whatever Floats Your Boat!
Dancing
She danced in the song Hey, Hey Baby along with Nonny.